Indoor Scavenger Hunts
Scavenger Hunt Clues, Riddles and Lists for Playing Indoors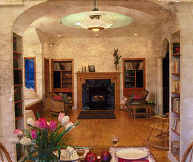 Fun indoor scavenger hunts you can play on rainy days or any day you're looking for some indoor fun.
From printable clue scavenger hunts for kids that lead to a prize or goodie bag, to scavenger hunt lists for everything from the things in a women's purse to specific ads ads and information from magazines and newspapers, you can have hours of scavenger hunt fun indoors.
---

Around the Home Poem Clue Hunt
For a fun bridal shower activity or to hide a present for a special someone on their birthday, anniversary, graduation, etc., use this Home Poem Clue Hunt. It will add a bit of mystery and to an already special day.


---
Goodie Bag Clue Scavenger Hunt - a fun indoor clue hunt for birthday parties, Christmas parties, Easter parties and more. Kids hunt through the house for clues that will lead them to their party treat bags.
---
Magazine Scavenger Hunt - the perfect activity for a rainy day or a quiet indoor gathering. Hunts include Magazine Scavenger Hunt Bingo, Story Hunt, Creative Story Hunt, Picture Hunt and a sample Magazine Scavenger Hunt list.
---
Newspaper Scavenger Hunt - Collect a stack of newspaper and some scissors and get ready for some creative fun. This newspaper scavenger hunt is a fun, inexpensive game that anyone who can read can play.
---
Purse Scavenger Hunt - Who has the best, most, craziest stuff in their purse? Find out at your next party or event. Whether you're planning a shower, a party, or a girls night event, a purse scavenger hunt is a great fit that's easy to set up and play. Use our list or write your own. Also be creative in how you award points and prizes.
Nov 04, 17 03:07 PM

Get your free mini Christmas pencil puzzle ebook by completing this easy Christmas internet hunt. Simply visit the ten Christmas theme sites noted and answer ten questions.

May 28, 16 02:57 PM

It smells good in here what could it be? I'm not telling but I was the first to see. In order to eat you must find your first clue. Go to Nina's room

May 28, 16 02:51 PM

Hi Sebastian, Mom and Dad wanted to surprise you with a special day for your birthday. Enjoy the Scavenger Hunt. Most importantly have fun!