Goodie Bag Clue Hunt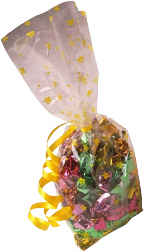 I want to do an indoor goodie bag clue hunt for my daughter's 13th birthday. She has invited 16 friends and they range in age from 7-14. We live in a regular neighborhood and want to have it in our home. I would like to have simple clues that would not be difficult for the younger girls to follow and I would like to have goodie bags at the last location.
Angela ~ USA
This goodie bag clue hunt is a two team, ten clue, scavenger hunt where teams start and end at the same place, but follow two different paths with slightly differing clues.
The final clue involves unscrambling letters found enroute. The unscrambled words lead to the treat bags.
I am including two printable versions of this hunt, but you can easily make your own variation by using these as an example.
Please Note: I would be willing to alter one of these hunts for your party, provided you give me enough notice.
Also Note: This hunt would work well for a birthday party, Halloween party, Christmas party, or any other party you might need an around the house scavenger hunt for.
---
Goodie Bag Clue Hunt Instructions
Print this hunt using colored ink on white paper OR black ink on two different colored papers (one color per team). You will need to give each team a pen or pencil for the hunt also.
There are ten clues per team. Each clue consists of a large box divided into 2 squares and 1 rectangle. Cut out around the outside of each of the large boxes.
Sample Box: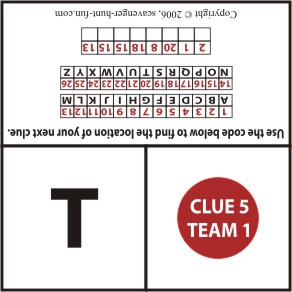 Fold in half.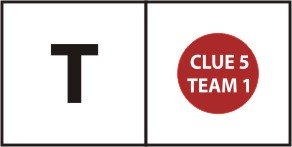 Fold in half again.


The team/clue marker
should be on the
outside facing up.
The letter should be
on the outside
facing down.
The clue should be on the inside.
The letters on each clue will be used to spell two words that will give the location of the hidden GOODIE BAGS. Those two words will be... HALL CLOSET. Be sure to let the teams know they have to collect the letters, but don't tell them why.
Both teams will be personally handed their first clue and may read it and begin their hunt when you say GO.
Both teams' second clues will be hidden in the garage (anywhere, but in a shoe or a jar - see clue 1).
Note: Be careful when hiding the clues. Don't hide the clue that leads to the garage in the garage, etc. Keep reminding yourself that the clue that leads to the next location needs to be hidden at the location before it.
From the garage onward each team will take a different path, till they end up at their final destination... the HALL CLOSET.
When hiding the clues be sure the side with the team/clue marker is visible and notify your teams that if they see a clue from the other team, they should leave it where it is and not give any indication that they know where it is, otherwise they could unknowingly be helping the other team. Each team has their own color.
Printable Goodie Bag Clue Hunt - Team 1

Printable Goodie Bag Clue Hunt - Team 2


Hiding order and locations for this scavenger hunt are as follows.
TEAM 1
Garage, Microwave, TV, Mailbox, Bathroom, Washer, Kitchen Table, Patio, Refrigerator, Hall Closet
TEAM 2
Garage, Dryer, Desk, Refrigerator, Dishwasher, Coffee Table, Bookcase, Mailbox, Patio, Hall Closet



Note: To view the printable clues, you will need Adobe Reader installed on your computer (the latest version is recommended). You can get your free Adobe Reader here (a new window will open so you can download it without leaving this page).
Dec 15, 22 11:02 AM

A Christmas classroom scavenger hunt with rhyming clues that lead to locations in the class. Perfect for teachers wanting to add some fun to the holiday season.

Nov 16, 22 01:42 PM

Holiday scavenger hunts for Christmas, Halloween, Valentine's Day, Easter and all the other holidays in between. Lots of printable lists and ideas.

May 02, 22 01:12 PM

Hip hip hooray, It's final exam day! I've made you a scavenger hunt to complete, Take selfies at each stop is your feat. Find all the clues to reach