Plan a Treasure Hunt Party Around a Scavenger Hunt for Kids
Kids love searching and exploring, so building a party around a scavenger hunt for kids is always a fun idea.
Of course, hunt clues will differ based on age groups, but the premise of the adventure is the same.
First decide on a theme or an item you want the kids to look for. For instance, I have done hunts where we searched for Polly's missing pocket, or a pirate's hidden treasure, or a dog's missing bone.
For the purposes of this party let's go with a unisex theme and plan a western mystery scavenger hunt.
Now we need to search for something. How about the sheriff?
Okay, that's it...
We'll call this party ... "The Case of the Missing Sheriff"
Scavenger Hunt Invitations
Receiving an exciting invitation is always a hit with kids. After all, the anticipation of the upcoming event is half the fun.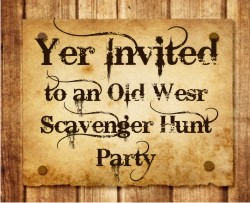 You could do that with a paper invitation or even by dressing up in cowboy gear and making the invitation a video you can load on youtube and then send the link to guests.
NOTE: I wouldn't put personal info on the video such as address, etc. Make the video generic and put the personal info in the email when you send the link to the invitation.
Sample Wording for a Paper or Video Invitation:
Yer invited to to saddle up in yer cowboy gear
And head on over to Chris' house on June 22nd
for a 10th birthday scavenger hunt mystery party
The Sheriff of Longhorn Ranch is missing and
we need brave deputies to help us track him down
Are ya up the challenge?
If so, RSVP by June 10th
Western Scavenger Hunt for Kids Clues
When the kids arrive you could first start with a ceremony to install them as deputies and pin them all with a deputy badge
.
Then, bring out a Sheriff's badge and say something like...
Okay deputies, we have an important assignment for you.
The Sheriff is missing and we need you to find him.
Can you do it? (get a response)
Alright, then here is your first clue...
Clue #1:
For whatever location you want to hide your 2nd clue create a western themed puzzle where kids have to fill in letters to find the next clue location. For this example we will be leading kids to a sandbox, so the clue will spell out SANDBOX.
EXAMPLE:
The clue reads...
Fill in the answers to the following clues. The yellow boxes will spell the location of hidden horseshoes. One of them will have instructions for a challenge you need to complete to get your next clue.
Clues and Answers
1. Where a cowboy carries his gun (holster)
2. Rope that cowboys catch cattle with (lasso)
3. A stringed instrument cowboys play (banjo)
4. Leather seat cowboys put on their horses (saddle)
5. What a cowboy wears around his neck (bandana)
6. Cowboy transportation (horse)
7. Lone Star State (Texas)
The next clue location is found reading down the yellow squares on the completed puzzle.
Clue #2:
Bury 3-6 horseshoes in a sandbox. Attach a clue to one of the horseshoes. Place that clue inside a Ziploc bag and attached it to the horseshoe with tape or elastics or wire. Be sure it is secure. Alternatively you could write the clue on one of the horseshoes with a permanent Sharpie marker.
You'll need the kind of horseshoes you use to play the game of horseshoes for this challenge. The challenge will require the guests to take turns tossing horseshoes at the pole and each time they get one on they get a puzzle piece that will lead to the next clue once complete. (Depending on the size of your party you could also do this as a team challenge with each team trying to collect their puzzle pieces the fastest so they can solve it and move on).
The clue taped to the buried horseshoe would read something like...
To get your next clue you will need to play a game of horseshoes. Each person will take turns and for every time you ring the pole with the horseshoe you will receive one puzzle piece. There are 9 pieces in total. Once you have all the pieces you can put them together and follow the answer to your next clue.

More clues to be added soon... In the meantime, inspiration for creating your own scavenger hunt for kids clues can be found HERE!
Scavenger Hunt Clues and Riddles Generator
for When You Don't Have Time to Make Your Own
Scavenger Hunt Riddles
7,500 Clues Using Household Items
Create Unforgettable Party Games
with this Treasure Hunt Riddle Creator
Dec 15, 22 11:02 AM

A Christmas classroom scavenger hunt with rhyming clues that lead to locations in the class. Perfect for teachers wanting to add some fun to the holiday season.

Nov 16, 22 01:42 PM

Holiday scavenger hunts for Christmas, Halloween, Valentine's Day, Easter and all the other holidays in between. Lots of printable lists and ideas.

May 02, 22 01:12 PM

Hip hip hooray, It's final exam day! I've made you a scavenger hunt to complete, Take selfies at each stop is your feat. Find all the clues to reach