Magazine Scavenger Hunt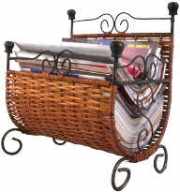 A magazine scavenger hunt is the perfect activity for a rainy day, long trip, or quiet indoor gathering.

There are so many variations to a magazine scavenger hunt that you could play for hours.

---
Magazine Scavenger Hunt Bingo
Make up blank bingo cards the size of a sheet of paper (one per team). Have each team think of things that might be found in magazines and write down one item per square (except for the FREE space in the middle). Next, have each team give the card they made to another team. Then, hand out the magazines and let the hunt begin. The first team to get a bingo wins. You can play this several times, but once a picture has been removed from a magazine, it cannot be used again.
Story Scavenger Hunt
Pass out a one paragraph story, a poem, a nursery rhyme or any other short prose. Hand out the magazines along with a piece of paper, scissors and a glue stick (one set per team). Teams search for each of the words needed to complete the story, cut them out and paste them on the given paper. First team to complete their story wins.
Creative Story Scavenger Hunt
Similar to the previous hunt except teams cut and paste words to make their own story or poem. The most creative one wins.
Picture Scavenger Hunt
Hand out a list of pictures and/or words and have the teams search for them and cut them out of their magazines in a set amount of time. The team who finds the most items on the list in the allotted time wins. See sample list below.
---
Magazine Scavenger Hunt List
01. Any chocolate dessert recipe

02. A politician

03. A bird

04. A can of soda pop

05. A baby

06. Athletic footwear

07. Ice

08. A red-haired woman

09. The word "sophisticated"

10. A blue car

11. A tv

12. Water

13. A utensil

14. The word "game"

15. Glasses (the kind worn on the face)

16. A vegetable

17. A cartoon

18. A phone number with the number 8 in it

19. A red necktie

20. A ring
May 26, 20 02:09 PM

Hip hip hooray, It's your first exam free day! I've made you a scavenger hunt to complete at your leisure. Find all the clues to reach your treasure.

May 15, 20 08:06 PM

Hey mister:) So pretty soon you're graduating from law school; yay! Even during this quarantine, you deserve a gift for all your hard work! It's a big

Feb 15, 20 10:33 PM

Around town scavenger hunts for enjoying everything from a day or night out on the town to an afternoon at the mall or a local museum.