Scavenger Hunts
for Every Event and Location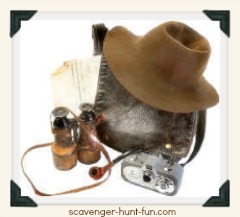 Scavenger hunts are so much fun and can easily be adapted to any age group or event, skill level or location.
There are indoor hunts, outdoor hunts, internet hunts, office hunts, handbag hunts, video hunts, photo hunts, magazine hunts, mall hunts, puzzle hunts, treasure hunts, glow-in-the dark hunts, bachelorette hunts,clue hunts, and even "Where's Waldo?" hunts.
Scavenger hunts are not only entertaining, but they are perfect for enhancing team building skills.
If you really love scavenger hunts, it is so fun to create your own. You'll find lots of inspiration for writing your own scavenger hunt clues here.
And to celebrate, a birthday, an accomplishment, or just the awesomeness of someone special, create a scavenger hunt for them and send them their first clue via email with a link to a custom page made by... YOU!
Whether you're planning a bridal shower or an afternoon at the park, there is a scavenger hunt for you. If you can't find the one you're looking for here, contact us and we'll do our best to get one to you as soon as possible.
Scavenger hunt ideas, lists and information to keep you up to date on what's new at scavenger-hunt-fun.com.
Ideas and instructions for writing fun and challenging scavenger hunt clues using pictures, puzzles, letters, rhymes and trivia.
This scavenger hunt for kids has a western theme and leads party guests to find a missing Sheriff. The ideas can be used for any themed scavenger hunt party. Includes ideas for invitations.
There are so many scavenger hunt list ideas you can build a party or event around. These ideas for scavenger hunt lists will have you on your way to creating a fun, unique scavenger hunt of your own.
For rainy days or any indoor event indoor scavenger hunts can't be beat. Around the home poem clues, newspaper scavenger hunts and magazine hunts are all low cost fun you can print and play today.
Enjoy outdoor hunts and soak in the beauty of the world around you.
Holiday hunts for Christmas, Halloween, Valentine's Day and all the other holidays in between.
Scavenger hunts for enjoying everything from a day or night out around town to an afternoon at the mall.
Add some spice or nostalgia to your bachelorette party with these bachelorette party scavenger hunt ideas, ranging from daring to stylish, and from practical to wild. Time to get the party started!
A school staff and teachers scavenger hunt designed to build relationships and to help staff and teachers get to know one another better.
In 1979 the hilarious Scavenger Hunt movie hit movie theaters. The large ensemble cast included Cloris Leachman, Vincent Price, Tony Randall, Willie Aames & more. Watch it online at Scavenger Hunt Fun
Internet scavenger hunts are a great way to discover new and interesting sites.
Hey Kids... Find all of the answers to the questions in our scavenger hunt fun internet treasure hunt for your chance to be entered in a draw to win a cool Riddle Me scavenger hunt prize.
Try this extraordinary treasure hunt and discover the answers to your most pressing questions.
For this beach photo hunt you will need to capture various beach scenes on film.
Site map directory for scavenger-hunt-fun.com
Contact Us form for all comments and questions related to www.scavenger-hunt-fun.com
Official contest rules for our Internet Treasure Hunt for kids.
Fun links to scavenger hunt and contest related sites.
Solve the clues in this Mall Clue Hunt. Take photos and bring back items based on the answers to the clues. The team that solves the most clues correctly will be declared the winners.
For a fun, inexpensive game anyone who can read can play, try this printable newspaper scavenger hunt game. You might even learn something about your community in the process.
Create a scavenger hunt to lead someone to a gift or special surprise... or even to YOU! Post your first clue HERE and then send a link to your clue page to the person you want to send on the hunt.