Rock and Roll Scavenger Hunt
We need a Rock and Roll scavenger hunt list for a 21st birthday party we are throwing in the downtown area of Deep Ellum, Texas. There will be 20 people and everyone will be dressed as either Rock Stars or groupies. We will be dividing into teams and taking photos for proof. Any help you could give would be greatly appreciated.
Jennifer ~ USA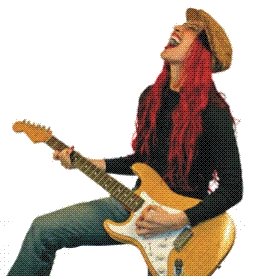 Each item on this Rock and Roll scavenger hunt list is worth 1 point unless otherwise noted. #6 may be hard for some teams to accomplish if the birthday honoree is not readily available for all teams. If possible move the birthday honoree from team to team throughout the evening by the use of cell phones or some other means of communication.
With any of these Rock and Roll scavenger hunt activities, please stay in a group and always maintain a vigilant level of safety. Watch out for each other.
Note: This list can easily be altered to suit any other Rock and Roll scavenger hunt party or event. If you need help with making the changes contact us.
---
Rock and Roll Scavenger Hunt List

01. Get a stranger to do a piece of graffiti art or a pencil sketch, depicting your team.
02. Photograph the stranger who looks the most like a famous Rock Star.
03. Photograph the autograph of a famous Rock Star (it can be on a mounted picture or any other item in any establishment you visit).
04. As a team approach a complete stranger as if they were someone famous (make up a name for them if they don't look like anyone famous you know). Over exaggerate your awe at spotting them. Have them write a ridiculous note to you (make something up) and autograph it. Take a picture of that person with the team. Never let on to them that you know they aren't famous even when you walk away. (2 bonus points if your team is believable enough that other strangers start thinking the person is famous too.)
05. Find and photograph a Rock and Roll vinyl LP (record album).
06. Photograph a live Rock band (3 bonus points if you can get the lead singer to serenade the birthday honoree on stage).
07. Get 5 senior citizens to pose for a Rock & Roll airband.
08. Find and photograph a juke box.
09. Get a poster of a local Rock Band (1 bonus point if you can get it autographed by a band member).
10. Find and photograph the best piece of Rock and Roll graffiti you can find.
11. Have one team member get a non-permanent Rock and Roll tattoo. Exercise extreme caution in regard to cleanliness of the establishment and overall safety of the location.
12. Get a stranger to let you dress them up as a Rock Star (to do this you will need to have some costume items and makeup with you). Take a before, after and during photo.
13. Get autographed birthday greetings from 21 local artisans, musicians, and bartenders (a great idea would be to make up a cd of the birthday honoree's favorite songs beforehand and then have the CD insert cover autographed by these people - great gift that keeps on giving).
14. Get someone to write a short original birthday song for the birthday honoree and sign it. (If you have video recorders - have the team learn it and sing it with the writer.)
15. 2 points for every team member who performs solo at a karaoke bar. If more than one team member performs (a group effort) only 1 point is scored for the performance (eg. a trio can only score 1 point total). No team member can perform more than once for points.
16. 1 point for every time a team member is genuinely mistaken for a famous Rock Star.
17. 5 bonus points for any team spotting and photographing a celebrity or famous musician (has to be famous on a national level, not just locally).
Do you have a great idea to add to this
Rock and Roll scavenger hunt list?
Submit it below and if it is suitable, we will add it here.
Please Note: When you send your ideas you are granting scavenger-hunt-fun.com the right to use and/or publish your ideas on our web site and/or in ebook format.
Nov 28, 23 01:38 AM

Welcome to EGC! Today will test your sleuth and resilience skills. You will be working in teams of 2-4 people. You will need to solve each clue. Once

Dec 15, 22 11:02 AM

A Christmas classroom scavenger hunt with rhyming clues that lead to locations in the class. Perfect for teachers wanting to add some fun to the holiday season.

Nov 16, 22 01:42 PM

Holiday scavenger hunts for Christmas, Halloween, Valentine's Day, Easter and all the other holidays in between. Lots of printable lists and ideas.