Spooky Internet Scavenger Hunt
Search for the answers to the spooky internet scavenger hunt questions below to receive a coupon code for 25% off of Ghost and Stories' bone chilling ebook, The House.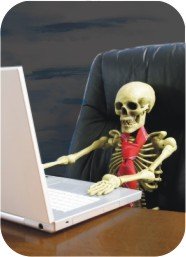 The ebook includes 10 spooky stories you'll have to work up the nerve to read alone, but for an evening of ghostly fun... assemble some friends, dim the lights, cue the haunting instrumental music, and begin to read the spooky tales together... we DARE YOU!

To play this internet scavenger hunt, visit 10 websites and look for the answers to 10 questions. Each question in the form below has a link to a page that holds the answer. The links will open new pages, so that you can find the answers without leaving this page. Type your answers in the form below as you find them. You must answer all of the questions in order to submit them.


From Spooky Internet Scavenger Hunt
to More Internet Scavenger Hunts

Spooky Halloween Clue Hunt
Nov 30, 17 01:29 AM

An easy 4 clue Christmas gift riddle scavenger hunt. Make Christmas gift giving last a little longer by having the kids hunt for one or more of their gifts.

Nov 29, 17 11:34 PM

Welcome to the Trish is turning 30 birthday extravaganza, hoedown, hootenanny, shindig weekend/getting old weekend! My name is Brendan (your sexy husband)

Nov 04, 17 03:07 PM

Get your free mini Christmas pencil puzzle ebook by completing this easy Christmas internet hunt. Simply visit the ten Christmas theme sites noted and answer ten questions.