Find and Photograph People in Their Fun, Crazy and/or Amazing Halloween Costumes
Create a list of classic, fun, crazy or unusual Halloween costumes. Include an equal amount of descriptive words that can be open to interpretation by the teams (eg. cheap could be sleazy or low cost).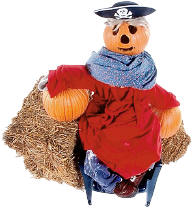 Be sure each team has a camera and enough film (or digital memory) to capture images of all of the costumes on your list.
Set a time limit and a meeting place.
Teams need to get photos of as many of the costumes as possible in the given time.
Every costume MUST have a person in it.
If there is a tie give bonus points for the best photo in each category.
There is a sample halloween costumes scavenger hunt list below. Use it, modify it, or create your own.
Please remember: Safety for all participants is of utmost importance. Be sure teams travel in groups and exercise caution in all situations, especially when interacting with strangers.


Halloween Costumes Photo Scavenger Hunt List
Find and photograph someone wearing each of the following costumes.

Skeleton
Pirate 
Angel 
Clown 
Zombie 
Super Hero
Politician
Animal

Maid
Angel
Rockstar
Celebrity
Nurse/Doctor
Convict
Vampire


Find and photograph someone wearing a costume that depicts the description below. You must find a different costume for each one of the descriptions. These photos must also be different then the ones you took for the list above.

Scary
Sexy
Wacky
Creative
Cheap
Hairy
Patriotic
Humorous
Religious

Colorful
Delicious
Royal
Historical
Whimsical
Mysterious
Gothic
Bizarre


Dec 15, 22 11:02 AM

A Christmas classroom scavenger hunt with rhyming clues that lead to locations in the class. Perfect for teachers wanting to add some fun to the holiday season.

Nov 16, 22 01:42 PM

Holiday scavenger hunts for Christmas, Halloween, Valentine's Day, Easter and all the other holidays in between. Lots of printable lists and ideas.

May 02, 22 01:12 PM

Hip hip hooray, It's final exam day! I've made you a scavenger hunt to complete, Take selfies at each stop is your feat. Find all the clues to reach