Glow in the Dark Scavenger Hunt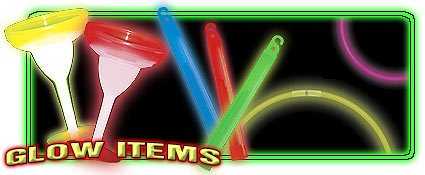 When planning your next evening scavenger hunt, consider a glow in the dark scavenger  hunt. There are small tubes and/or bottles of glow in the dark paint available in Walmart's craft department or at many craft stores. I've even found some at the dollar store on occasion. The paint hardly shows when you put it on, so test your items in a dark room before you hide them to see how they look and to be sure they've had enough exposure to light.
Here are just a few ideas to get your creativity and imagination to work.
Glow in the dark items can be seen everywhere, from concerts to amusement parks, flea markets to your local department store. Whether you choose to use one of these ideas or make up one of your own, know that glow in the dark paint and accessories are always a fun party addition.
Interested in taking this party idea a step further? Have glow in the dark makeup available for your guests to paint their hands and faces. It's fun to see everyone glowing as they're searching for hidden items in the dark.
Remember... Play safe! Have Fun! Try something new! 


Nov 30, 17 01:29 AM

An easy 4 clue Christmas gift riddle scavenger hunt. Make Christmas gift giving last a little longer by having the kids hunt for one or more of their gifts.

Nov 29, 17 11:34 PM

Welcome to the Trish is turning 30 birthday extravaganza, hoedown, hootenanny, shindig weekend/getting old weekend! My name is Brendan (your sexy husband)

Nov 04, 17 03:07 PM

Get your free mini Christmas pencil puzzle ebook by completing this easy Christmas internet hunt. Simply visit the ten Christmas theme sites noted and answer ten questions.