Glow in the Dark Scavenger Hunt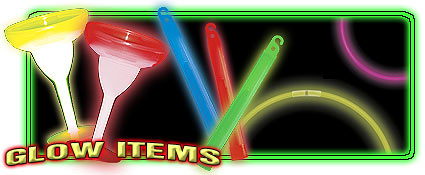 When planning your next evening scavenger hunt, consider a glow in the dark scavenger  hunt. There are small tubes and/or bottles of glow in the dark paint available in Walmart's craft department or at many craft stores. I've even found some at the dollar store on occasion. The paint hardly shows when you put it on, so test your items in a dark room before you hide them to see how they look and to be sure they've had enough exposure to light.
Here are just a few ideas to get your creativity and imagination to work.
Glow in the dark items can be seen everywhere, from concerts to amusement parks, flea markets to your local department store. Whether you choose to use one of these ideas or make up one of your own, know that glow in the dark paint and accessories are always a fun party addition.
Interested in taking this party idea a step further? Have glow in the dark makeup available for your guests to paint their hands and faces. It's fun to see everyone glowing as they're searching for hidden items in the dark.
Remember... Play safe! Have Fun! Try something new! 


Dec 15, 22 11:02 AM

A Christmas classroom scavenger hunt with rhyming clues that lead to locations in the class. Perfect for teachers wanting to add some fun to the holiday season.

Nov 16, 22 01:42 PM

Holiday scavenger hunts for Christmas, Halloween, Valentine's Day, Easter and all the other holidays in between. Lots of printable lists and ideas.

May 02, 22 01:12 PM

Hip hip hooray, It's final exam day! I've made you a scavenger hunt to complete, Take selfies at each stop is your feat. Find all the clues to reach