Beach Photo Hunt
The next time you head out with your friends for a day of fun in the sun, plan a beach photo hunt. 
All you need is one camera and one copy of the list below per team.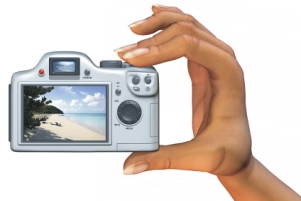 Play till one team captures all of the required scenes on their camera or plan to meet later and vote on the most creative photo interpretations.

Beach Photo Hunt List
Take a photo of each of the following scenarios. Use your imagination if they are not readily available.

01. A team member completely buried in sand except for his/her head.
02. A sand castle at least 3 foot high.
03. Someone who's had too much sun.
04. A bird picking at trash.
05. Someone wearing animal print swimwear.
06. Any capsized water vehicle.
07. Someone walking a pet other than a dog along the beach.
08. Any reptile in its natural habitat.
09. The most unusual seashell you can find.
10. Buried treasure.
11. Any sport being played at the beach.
12. A dog swimming in the water.
13. Someone worthy of being on the cover of Sports Illustrated.
14. Someone with unusual tan lines.
15. Someone covered with more tattoos than beachwear.
16. A "retired" couple soaking up the rays.
17. A couple who appear to be on their honeymoon.
18. Any scene that looks completely out of place on the beach.
19. A toddler who has made an amazing discovery.
20. Someone wearing beach attire that makes you say... "Hmmm..."


Nov 28, 23 01:38 AM

Welcome to EGC! Today will test your sleuth and resilience skills. You will be working in teams of 2-4 people. You will need to solve each clue. Once

Dec 15, 22 11:02 AM

A Christmas classroom scavenger hunt with rhyming clues that lead to locations in the class. Perfect for teachers wanting to add some fun to the holiday season.

Nov 16, 22 01:42 PM

Holiday scavenger hunts for Christmas, Halloween, Valentine's Day, Easter and all the other holidays in between. Lots of printable lists and ideas.