ABC Mall Hunt
For this ABC mall hunt, teams will need to search for 26 items in 26 different stores. Each item begins with a different letter of the alphabet.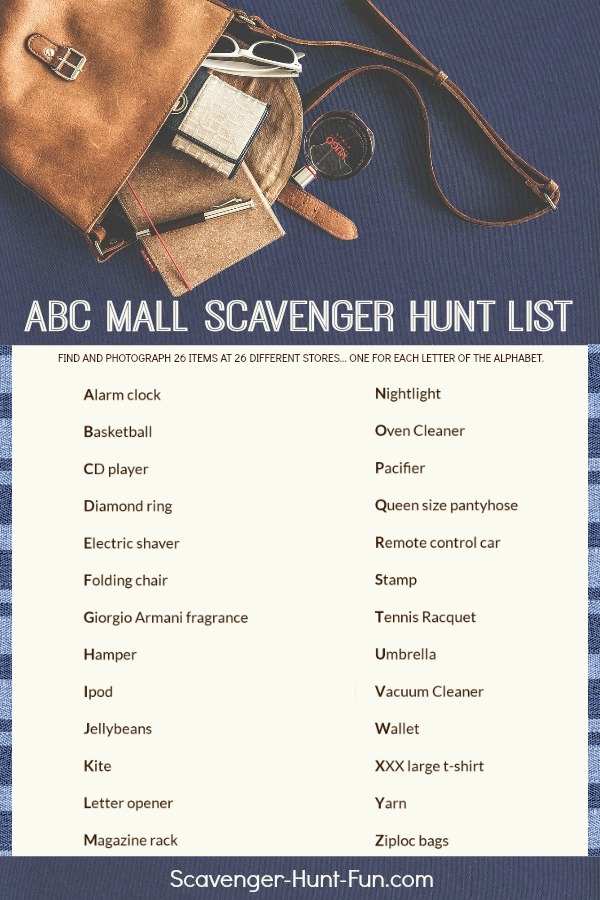 Teams must record the price of the item and the store it was found in for verification purposes.
Use our sample list below or create your own.
Remember: Each item must be found at a different store.

Be sure the mall you plan to hold the hunt at allows scavenger hunts and please be respectful of the shops you enter while playing. Your hunt should not disrupt their business.
ABC Mall Hunt List
Alarm clock
Basketball
Camera
Diamond ring
Electric shaver
Folding chair
Giorgio Armani fragrance
Hamper
Ipod
Jellybeans
Kite
Letter opener
Magazine rack
Nightlight

Oven Cleaner
Pacifier
Queen size pantyhose
Remote control car
Stamp
Tennis Racquet
Umbrella
Vacuum Cleaner
Wallet
XXX large t-shirt
Yarn
Ziploc bags
Dec 15, 22 11:02 AM

A Christmas classroom scavenger hunt with rhyming clues that lead to locations in the class. Perfect for teachers wanting to add some fun to the holiday season.

Nov 16, 22 01:42 PM

Holiday scavenger hunts for Christmas, Halloween, Valentine's Day, Easter and all the other holidays in between. Lots of printable lists and ideas.

May 02, 22 01:12 PM

Hip hip hooray, It's final exam day! I've made you a scavenger hunt to complete, Take selfies at each stop is your feat. Find all the clues to reach