ABC Mall Hunt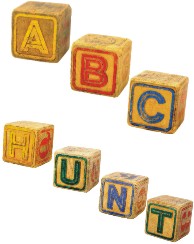 For this abc mall hunt teams will need to search for 26 items in 26 different stores. Each item begins with a different letter of the alphabet. 
Teams must record the price of the item and the store it was found for verification purposes.
Use our sample list below or create your own.
Remember: Each item must be found at a different store.


ABC Mall Hunt List
Alarm clock
Basketball
CD player
Diamond ring
Electric shaver
Folding chair
Giorgio Armani fragrance
Hamper
Ipod
Jellybeans
Kite
Letter opener
Magazine rack
Nightlight

Oven Cleaner
Pacifier
Queen size pantyhose
Remote control car
Stamp
Tennis Racquet
Umbrella
Vacuum Cleaner
Wallet
XXX large t-shirt
Yarn
Ziploc bags
Jul 27, 18 02:36 PM

Good morning my sleeping angel baby! I hope you are ready for a fun day and a (sort of) long drive haha! I have planned a special trip for you around

May 29, 18 03:56 PM

Privacy Policy for Scavenger-Hunt-Fun.com - Last updated May 29, 2018

May 01, 18 03:44 PM

Bem-vindas a caça ao tesouro do acampamento de dia das mães! Preparamos esta caçada com muito carinho para que você e seu filho possam partilhar momentos